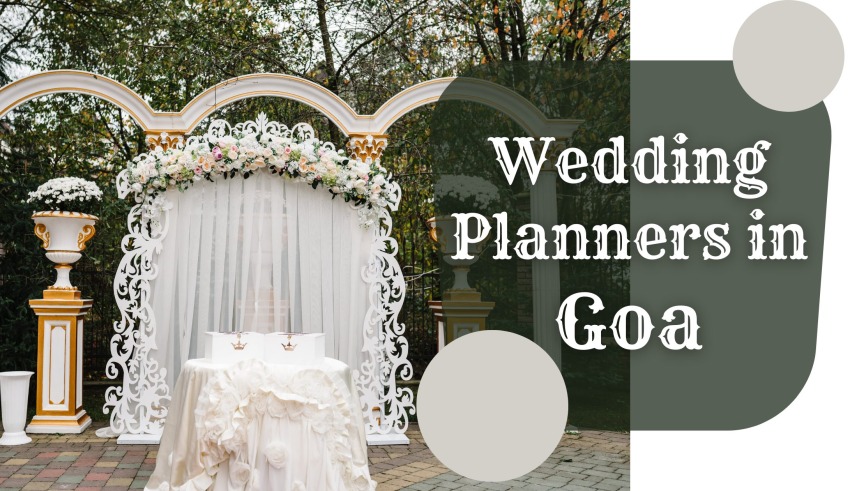 Are you dreaming forever about your dreamlike wedding in Goa? Well, we've got magicians who will make that dream of yours come true. With the assistance of these wedding planners in Goa, you can make all the bookmarked Pinterest posts jump out of your mobile into reality at your wedding.
The wedding day is quite the big day in all the couple's lives. So, you must hire the most suitable wedding planners in Goa to conduct such a big wedding. Both the family members deserve to relax and enjoy the joyful occasion instead of rushing here and there or stressing out everything.
They say, "Weddings are made in heaven and consummated on Earth". These wedding planners in Goa aid you showcase them in the best way possible. They sprinkle love, creativity, and clarity in whatever they do. And we have shortlisted such wedding planners in Goa.
Well, you can't even imagine something getting messed up on your big day, don't you? You are well aware of such things and that is why you've come here searching for a wedding planner in Goa. These listed wedding planners have lots of experience in good planning and satisfactorily executing mesmerizing weddings. Let us get to know them one at a time!
Best Wedding Planners in Goa: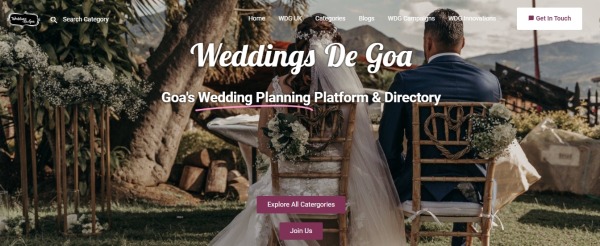 People who search for the topmost quality-oriented wedding planners in Goa have arrived at the right page. Never settle less than your expectations. Weddings De Goa is the key to all queries regarding weddings. Trust us when we say this is the only shop you need to stop. Wow, they get all your work done at ease. Relieved right?
Select a theme and ambiance for your desired wedding that fits your preferences and taste. From setting the stage to taking care of your beautiful guests n giving proper priority to their taste buds, we take note of everything. What else is left in your inventory?
Weddings De Goa has 25 categories and nearly 400 dealers for that who will magically sort everything out and make it a reality to the final intricate detail. Their listings go on and on. From yummilicious food to grand wedding halls, from beauticians to DJs, from magical photography to beautiful light effects, and the list continues. To get all these done, you just have to invite them to plan your wedding, and once you do so, you're in good hands. Put your faith in them, and they will execute your wedding just the way you imagined.
Address: Ucassaim , Pello Vaddo, Bardez, Goa 403507
Phone: 091469 70951
---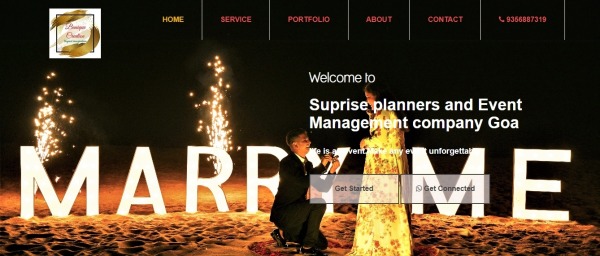 The next wedding planner on the list is the BUnique Creation. 'A wedding is not just another event, but a lifetime experience. This is the motto of this company. A marriage celebrates two souls becoming one as they begin a brand new chapter in their lives together. Indeed, marriage planning is hectic stuff. Our magicians know all these hectic things, and they offer you a one-stop destination for all your issues related to your marriage.
They have a wide range of vendors who will assist you in successfully running your wedding. To make certain that the decorations, lighting, photography, cuisines, and the entire event goes well as planned, is a tuff task only some can manage properly. To make everything easier, BUnique Creation would love to aid you.
So you can prepare for a fascinating wedding that will leave your family, relatives, and yourself speechless. Overall, if you desire your wedding to heartfelt and also personalized, then BUnique Creation, the wedding planners in Goa is what we'd like to suggest!
Address: 109/13, behind sateri temple, Ghateshwar Nagar, Khorlim, Mapusa, Goa 403507
Phone: 093568 87319
---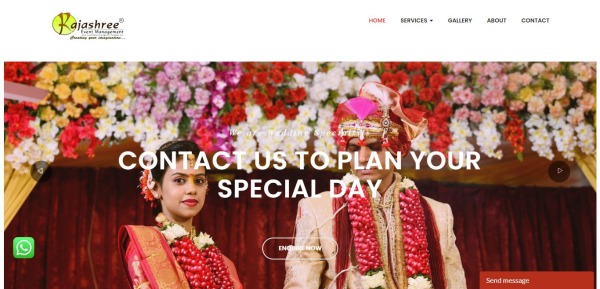 Rajashree Events Management has an edge-to-edge wedding planning label situated in Goa. They have got committed professionals to utilize their skills to work on something unique and new.
If you are looking for a group who are experience oriented, then this is the one. Rajashree Events Management has 5+ years and has covered up to 250 weddings in a grand manner working since 2013. The crew put their soul and heart into creating the exact same thing which you envisioned on your big day.
Rajashree Events Management is popular for arranging destination weddings. They don't stop with only weddings but will arrange for your birthday parties, themed parties, corporate events, personal services, etc. Overall, their motto is to do whatever makes their clients happy and take care of the food, artists, decor, and entertainment with dedication and honesty.
Address: Shop no1, besides St. Annes School, Agalli, Margao, Goa 403602
Phone: 099234 90670
---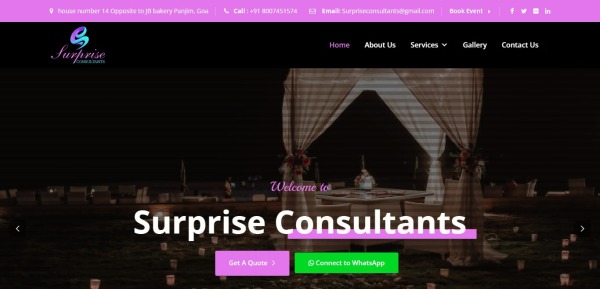 The Happiness consultants are what they call themselves. As Surprise Goa is a young crew, who are fun-loving, smart, and sharp and impacts people's lives with their surprise feature. They are ready to know about your queries and would love to assist you to conduct that big dream wedding of yours. They always make their services truly special by shocking you with unexpected happenings in a good way.
Surprise Goa takes time to plan the events and make sure they proceed accordingly. Their client's interests and choices matter the most. The crew members are easy to communicate with. They understand their clients and create the most admiring designs.
In fact, they love making our clients overwhelmed, shedding tears of joy, and giving them the best lifetime experience. Whatever they plan with you, they execute the same. Moreover, they love what they do. So, Surprise Goa is true to its work and puts its whole mind into what they do.
Address: Nanu Tarkar Pednekar Rd, Fontainhas (quarter), Altinho, Panaji, Goa 403001
Phone: 086684 27632
---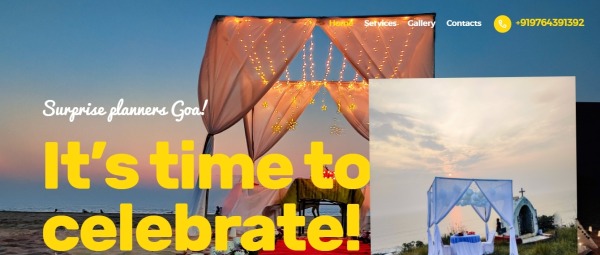 Surprise Planners Goa does whatever you require to pull off your perfect wedding. This company is one of the best wedding planners in Goa and provides all the extra services that most of the other companies don't offer you. Their decoration designs and ideas will surely make your venue look impressive from every angle possible. Surprise Planners Goa is known for its surprises.
When you prepare something with them, they take up all the tasks and would not even let you lift a finger, so you can feel that you are like a guest in your own event. Moreover, this won't mean that they don't respect your needs. They want you to be comfortable and enjoy yourself without any tension as they fulfill your wedding demands.
The company delivers an incredibly pleasant experience as they pay attention to even the tiniest customization and detail as per your needs. Overall, Surprise Planners Goa is the one-stop goal for all your essentials to plan a super duper wedding.
Address: H.no 109, Nagoa, Verna, Goa 403722
Phone: 097643 91392
---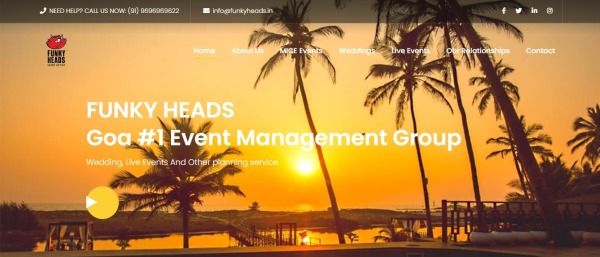 The leading vibrant group of professional wedding planners in Goa is what the Funky Heads are known as. These wedding planners for wedding and affiliated services, and they look after everything from marriage planning to executing it.
The work they do is appreciated and highly admired by their customers. They cautiously heed whatever requirements and needs of the customers so they can produce the hoped output. Your wedding is a huge and quite important step in your life as it celebrates the beginning of your unexplored journey with your better half.
The whole wedding is usually celebrated like a festival full of colors and overwhelming emotions. When you are the bride-to-be, and along with everything happening around you, it is hard to sit and plan your weddings by yourselves. So Funky Heads will be the helping hand whom you can trust to make your day memorable and special.
Address: G-3,Leonard Apartment,Centre , Opposite Taleigao Community Centre, near MG hector showroom, Taleigao, Goa 403002
Phone: 096969 69622
---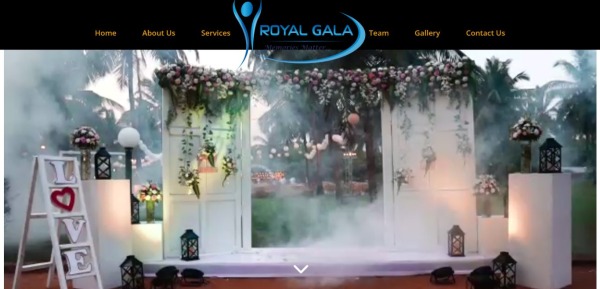 Not all the wedding planners in Goa will spend time, sitting down and listening patiently to what are your dislikes and likes. Well, Royal Gala Weddings does that. From your pre-wedding ceremony to your final reception, everything will be like a dream come true adventure with them.
This company approaches a particular wedding design will be personal, sophisticated, and highly attentive. They do all their planning this way because they want half of wedding planning to be fun. Royal Gala Weddings have mastered the art of wedding designing, planning, and coordinating. They especially work closely with grooms and brides to make memorable moments but won't disturb you at all.
For a grand wedding, you must execute well for that you have to design well, and now Royal Gala Weddings to the rescue in such situations. They literally consider you all like family members and mostly present flexible rates for their amazing services. Because weddings can add lots of financial pressure to you, they offer awesome financing solutions too. Royal Gala Weddings allow you to relax at your own wedding without any stress as your plan for your wedding unfolds.
Address: international hospitality college, opposite V M Salgaocar Institute of International Hospitality Education, Manora, Raia, Goa 403720
Phone: 088064 76464
---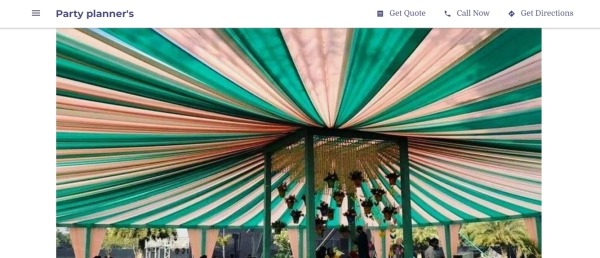 These guys go out of their way to make whatever the clients ask for by providing suitable facilities. Party planner's value and claim every single paise. Once you handle the charge, they progress further and make your fantasies come true. They are keen on whatever we do. Their goal is to make you feel worry-free. And at the same time, enjoy yourself to the core. The design and details will be apt to the occasion, and such comments are which they hear from our previous clients.
Looking in the eyes of your life partner and thousands of eyes witnessing the love that you both have for each other is a beautiful feeling in the world that could never be explained through words. So if you want them to promise to create your marriage day as unique as your fingerprint then this Party Planner's in Goa is the go-to option!
Address: Grand morod h no. 29, Mapusa, Goa 403507
Phone: 098223 55948
---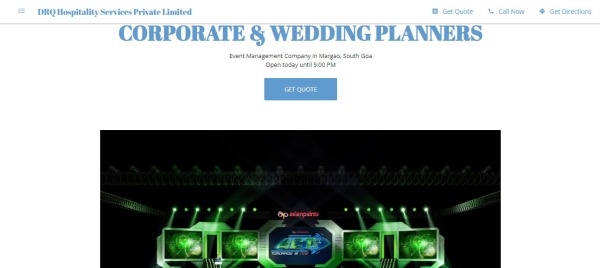 DRQ Hospitality Services Private Limited is a specialist in dealing with all your different client requests. Their main objective is to work hard to meet their client's demands as they put their clients at the center of everything. Other than having the necessary experience in arranging destination weddings they also arrange similar events which is a big plus for them over their competitors.
The wedding planners in Goa believe that quality work will indeed fetch them customer satisfaction. The company outshines itself in organizing each wedding they design and organize. Mostly they have covered all the requests that their clients lay in front of them.
This company's crew is supportive and friendly throughout the process. Their clients' feedback is that they are always patient with whatever queries you ask them. Their reputation lies as their business focuses more on customer satisfaction.
Address: L&L Correia pride building, 2nd floor AS24/25, Margao, Goa 403601
Phone: 095031 34308
---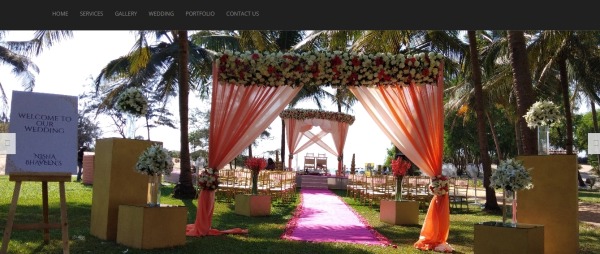 Detailed planning and perfect execution of wedding planners in Goa- is why clients opt for Tradowest Events Goa. They have built their company on the base of trust and quality. They'd like you to experience every fun and happiness in planning your destination wedding.
Tradowest Events Goa make certain that they do not lose the confidence you have in them. You can predict that they will indeed carry out all the tasks perfectly. You can either ask them to plan an event for your wedding or give them to prepare your wedding from the beginning to the end. Don't worry, they will function according to your requirements. They never leave you out while planning or making a decision!
Address: 1st, Anand Chambers, shop No. 146, near SBI Bank, Vaddem, Vasco da Gama, Goa 403802
Phone: 070200 53988
Wrapping it up
One of the greatest happiness in life for everyone is to have a perfect wedding. These shortlisted wedding planners in Goa are the best among the most esteemed ones. They will design and execute what you have fantasized about at your wedding. Furthermore, these companies have various budget rates and so you can choose accordingly without damaging your bank account.
 If given the opportunity, these wedding planners in Goa will make sure that your wedding is a memorable one, both for the couple and even for everyone attending the occasion. Therefore, no worries, only memories. They genuinely care about the needs and requirements of their clients and act accordingly.
These wedding planners don't act as if your wedding is just another project but invest their emotions here too. Moreover, these companies make sure to remove all the pressure from you. They keep checking everything is alright even when you are away from it. They have the experience in handling and making your ceremony a huge success. In case, you're searching the web to organize a wedding, we recommend you connect with these best wedding planners in Goa soon. Dreams do come true with such magicians at hand!