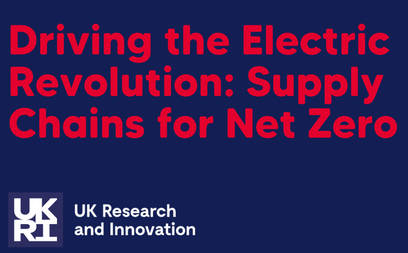 "The coming electric revolution presents an opportunity to put the UK at the forefront of a burgeoning industry, creating manufacturing jobs and prosperity across the country," said UKRI's 'Driving the electric revolution' challenge director Professor Will Drury. "By building a sovereign supply chain, we can help make sure zero emission technologies are truly zero emission, while both mitigating against overseas supply chain disruption and cementing the UK's place at the forefront of a burgeoning industry."
There were ten winning bids
SCIENZE – Supply chain innovation engineering for net zero
£2,473,169
Creating a UK-based supply chain capable of manufacturing power electronic components at volumes higher than is currently feasible today through a combination of novel assembly methods and high levels of automation – a successor to McLaren Applied's APC12 project ESCAPE to reduce the manufacturing cost of its 800V silicon carbide (SiC) inverter.
TT Electronics will investigate and invest in power-electronics manufacturing automation.  Microchip will industrialise its SiC power modules.
The Welding Institute and the Driving the Electric Revolution Centre North East (Newcastle University) will develop novel techniques for assembly and material joining
McLaren Applied
TT Electronics Integrated Manufacturing Service
Microchip Technology Caldicot
Newcastle University
TWI
Driving the Electric Revolution Centre North East
COCO – Coil to core: Supply chain for net zero CO2
£1,808,767
Develop a UK PEMD supply chain and manufacturing techniques (including cold rolling, and remote fibre laser cutting and welding) for high-strength non-magnetic steel laminations for rotor and stator sub-assemblies for transport, energy and industrial sectors. The steel, rotors and stators are all novel.
Driving the Electric Revolution Centre North East (Newcastle University) will support manufacturing, assembly and lamination coating development and scale-up.
Advanced Electric Machines
Tata Steel UK Ltd
Tata Steel Nederland Technology B.V
Newcastle University
Coventry University
Centre for Process Innovation
Driving the Electric Revolution Centre North East
FASA – A flexible, automated stator assembly platform for lightweight electric motors
£691,874
Develop automated manufacturing for Edge Mobility motors from 5 to 55kW.
Partners cover three supply chain layers: laser welding (WMG), tier-one supplier (Edge Mobility) and industrial robotics supply and integration (iRob International). Manufacturing process development support is from Driving the Electric Revolution Centre North East at Newcastle University.
Edge Mobility
I Rob International
Newcastle University
The University of Warwick
Driving the Electric Revolution Centre North East
UK-Alumotor 2 for LCV
£2,532,242
Reduces UK dependence on imported rare-earths, and build's on the Driving the Electric Revolution 'UK-Alumotor 1' supply chain development project, that included manufacturing aluminium windings, low wastage stators, composites for rotors and additive manufactured flux guides – all for Ricardo's magnet-free synchronous-reluctance traction motor technology which can be used to develop specific motors for clients.
The new work is to increase the 'manufacturing readiness level' (MRL) of a light commercial vehicle (LCV) motor, developing a pre-production motor, its manufacturing processes and its supply chain. A digital-twin of the motor will include manufacturing influences, cradle-to-grave life-cycle analysis and a price-vs-volume business cases across 5,000 to 100,000 units/year.
Ricardo
Warwick Manufacturing Group
C Brandauer
Aspire Engineering
Global Technologies Racing
Phoenix Scientific Industries
Driving the Electric Revolution Centre Midlands
PE2M – Power electronics modules by rapid moulding
£524,056
Restructuring the supply chain for power electronics modules for aircraft electrification using silicon carbide semiconductors in packaging with thermoplastic encapsulants. Other applications and gallium nitride semiconductors are also involved.
A 'UK focused' supply chain will be assembled. The partnership includes high volume supply chain companies specialising in interconnect and moulding, SME technology providers and recycling companies.
Ultrawise Innovation
Tribus-D
The University of Warwick
DZP Technologies
Custom Interconnect
HPM
Bioniqs
Driving the Electric Revolution Centre Midlands
Differentiating UK capability: Reducing footprint and weight of high power, integrated PEMD
£1,990,098
Focuses on the design and novel manufacturing techniques to significantly increase power density of high-power electrification systems.
GE Power Conversion
Dynex Semiconductor
University of Nottingham
Warwick Manufacturing Group
Driving the Electric Revolution Centre Midlands
ASSIST – Advanced SiC-based solid-state transformer
£1,093,472
Builds on Driving the Electric Revolution project SiC-MAP
Establishing a sovereign supply chain for higher-voltage high-current silicon carbide devices, including establishing three levels of manufacturing readiness. Wafer fabrication, device packaging and power converter manufacture are included.
Clas-SiC Wafer Fab will refine a process design kit for 3.3kV SiC mosfet. Alter UK will establish a plastic-encapsulated packaging process for low to medium volumes. Camutronics (Cambridge Microelectronics) will design SiC mosfets for Clas-SiC to make and the Compound Semiconductor Applications Catapult to characterise and test. Turbo Power Systems will integrate finished devices into solid-state transformer prototype.
Turbo Power Systems
Compound Semiconductor Applications Catapult
Clas-SiC Wafer Fab
Alter Technology Tüv Nord UK
Driving the Electric Revolution Centre South West and Wales
ELIPS – Enhanced liquid immersion power systems
Value: £2,528,865
Creating a UK supply-chain for immersion and GaN technology, aimed at delivering power modules, bespoke immersion components , sub-assemblies, manufacturing services, system integration services and intellectual property.
The consortium is aiming at data centre infrastructure, but also mentions automotive, aerospace and renewable energy.
Supply Design
Custom Interconnect
GSPK Circuits
Iceotope Technologies
Compound Semiconductor Applications Catapult
Driving the Electric Revolution Centre South West and Wales
P3EP – Pre-packaged power devices for PCB embedded power electronics
£2,537,842
Developing a UK supply chain for PCB-embedded 'pre-packaged' gallium nitride power devices, then construction methods for packaging and modules – all to increase thermal transfer and reduced parasitic effects. Pre-packages allow production testing, characterisation and reliability qualification, and simplify embedding into the system PCB.
Pulse Power and Measurement
The Thinking Pod Innovations
Cambridge Gan Devices
RAM Innovations
Cambridge Microelectronics
Compound Semiconductor Applications Catapult
Driving the Electric Revolution Centre South West and Wales
KALEIDOSCOPE – Key commercial scale capacitor development for supply chain improvements for PEMD sector
£529,664
Developing materials for automotive multi-layer ceramic capacitors with Pb-free dielectrics for low-toxicity and silver-based (therefore platinum-free and palladium-free) electrodes to ease supply-chain problems. Component material production, MLCC production and performance will be demonstrated. Requirements include >30V/μm dielectrics and >100°C operation. It aims to "radically improve upon state-of-the-art BaTiO3 ceramic-based MLCCs'. Johnson Matthey
Knowles (UK)
Gencoa
University of Sheffield.
Regarding the ELIPS project above, which requires simulations tools, manufacturing capability and development expertise to be combined, Supply Design business development director Marc Brand said: "Without support, the interaction would be too risky and we would lose the collaborative interaction, expertise and focus required to create clear competitive advantages in this niche."
UKRI took the £2.4m SCIENZE project as an example of what it expects the UK to gain:
100,000 power electronics-based products by 2025
>150 engineering jobs safeguarded
>£4.5m follow-on investment secured in UK-based industries
As well as the sums above, the £80m Driving Electric Revolution Challenge pot, handled by UKRI, is also providing £33m towards the four regional 'Driving the Electric Revolution' industrialisation centres (DER-ICs), at the Universities of Strathclyde, Sunderland, Nottingham and Newport.
Another £6m of it is earmarked for workforce training.